Best Alternatives to uTorrent on Windows — Top 3 uTorrent Alternatives
Posted On
Posted By Anshul Samaiyar
Best Alternatives to uTorrent on Windows was something I googled and thought it is worth sharing. There was the time when the torrent was supposed to be super light and no pop-ups and ads wasting your CPU. You can download hundreds of movies, seasons and games from these torrent sources without a hiccup but now it is completely the opposite scenario. Now uTorrent is filled with crapware and scammy advertisements.
Well, I have a list of Best Alternatives to uTorrent on Windows which are not only same as uTorrent but are better on many standards. I hope this post will be helpful to you.
Before giving out the list it is illegal to use torrent sites, as it is a way to piracy if you need to be secure and stay out of trouble, better us–e a VPN so that nobody can see.
Best Alternatives to uTorrent on Windows — Top 3 uTorrent Alternatives
Let us have a detailed look at the 3 best alternatives to uTorrent for Windows:
qBittorrent:- (Open Source, Junk Free) "A wise choice ", It aims to be the best free alternative to uTorrent and it is a closet thing to the junkware-free version of uTorrent.
qBittorrent comes with the minimal design of the application and has low CPU usage and memory as possible. The application includes an integrated torrent search engine, BiTorrent extensions like DHT and peers exchange, a web interface for remote control, priority and scheduling features, RSS downloading support, IP filtering, and many more features.
Download qBittorrent from here
2. Deluge:- (A plug-in based client) Deluge is another open-source, platform which is quite similar to the qBittorrent and has almost same features.
The add-on is instead of being a feature-filled client, like qBittorrent, the deluge has a plug-in to help you the advanced features. It comes with the client-server architecture that can run usually in the background which means you can run Deluge on a remote-perhaps a headless server and control deluge on your desktop.
Download Deluge from here
3. Transmission: – Many Linux and MacOS users must be familiar with this and the official version doesn't support Windows, but the Transmission-Qt Win Project is an unofficial Windows software.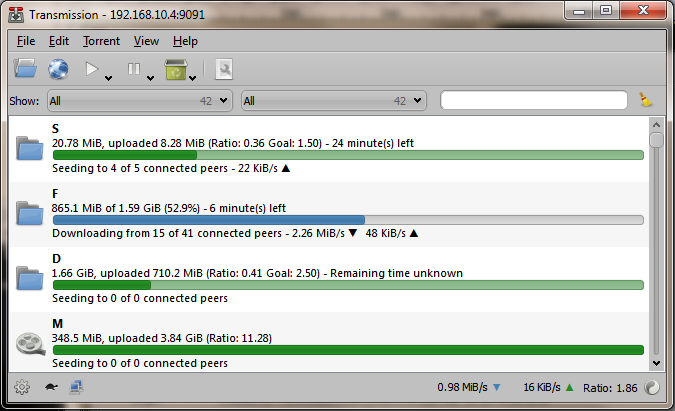 The downside is the security where it comes with some serious security issues and they have a different GUI which might not be familiar to the Windows user.
Download Transmission-Qt from here
Best Alternatives to uTorrent on Windows:- What we prefer
If you still want to user uTorrent, you can download the older version which is free from all the scammy ads and works at minimal CPU and memory.
We recommend you on the basis of the usage if you want to use it the old way just like uTorrent you can go for qBittorent which is similar to UTorrent and use least memory and CPU. You also have an option to switch to the client version of it which will run it as a background process which is Deluge.
I hope the above article "Best Alternatives to uTorrent on Windows" will be helpful for you, comment below and let us know your views.