This $15 Stand Can Turn Your Apple Watch Into A Mini Macintosh
Posted On
This $15 Stand Can Turn Your Apple Watch Into A Mini Macintosh: Now, there is a way to convert your Apple Watch into a miniature version of iconic Macintosh from 1984. Why wouldn't any Apple fan want to try this! Elago has launched a smartwatch stand dubbed as silicon W3 at a price of mere $15. The main purpose of The Elago W3 stand is to charge your Apple Watch.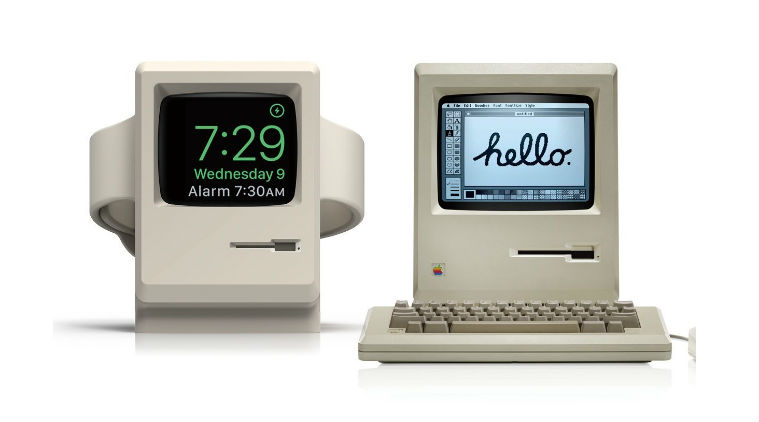 This Elago W3 stand is compatible with all Apple Watches and supports nightstand mode, which allows you to use it as alarm clock beside your bed and study table. So now you won't be needing an extra clock on your bedside.
It also has aa USB slot in the back, so your Apple Watch is getting charged while working as an attractive mini Macintosh Watch. The Elago's W3 Apple Watch stand is available for sale on Amazon.com and is also delivered to India.
This stand is available in both brilliant Black and White colors and also makes a perfect gift for your parents and grand-parents too if they have used one of those first machines from the Cupertino.
Place your watch in W3 stand and in nightstand mode it will display time, date, day, and alarm set time if your watch has WacthOS 2 or higher version. The Elago W3 stand is made from scratch-free silicone so your Apple Watch remains safe from any damage while placing or taking it out from the dock. The W3 stand package doesn't include the USB charging cable and weighs 3.2 ounces.
Elago W3 Apple Watch Stand: Review
Till now W3 has amazing reviews on Amazon.com and after being reviewed for 482 times, there are 4.6 shining stars. According to one gadget expert on amazon.com, W3 is a better fit for 42mm Apple Watch as compared to 38mm model. He gave this stand a total 5-Stars for the 'geek factor' itself.
You can buy this amazing stand from here: Buy Elago W3
This $15 Stand Can Turn Your Apple Watch Into A Mini Macintosh