YouTube App Now Lets You Double-Tap To Go Forward Or Rewind By 10 Seconds
Posted On
YouTube is constantly evolving by adding new features to its app and website to enhance its user experience. Maintaining the same trend Google-owned Youtube added a new facility of fast forwarding or rewinding through a video by double tapping on the video. If you have not noticed this new feature then here we are going to share with you the new Skip Function, silently added into your YouTube app.
YouTube App Now Lets You Double-Tap To Go Forward Or Rewind By 10 Seconds
If you a frequent YouTube user, then there is much possibility of you already utilizing the basic keyboard shortcut keys "J", "K" and "L" on your desktop. Then why shouldn't you have shortcuts for your mobile app! Whenever you want to go forward or go back through any video on YouTube App, you have to scroll over that tiny timeline. It becomes irritating sometimes and now it appears that someone at YouTube felt the same. As YouTube has silently added a new feature to its Android and iOS app which lets you jump by 10 seconds forward or backward through a video.
There is no exact launch date for this feature as YouTube hadn't made any official statement before or after launching this feature. It is possible that the function came with the latest update of YouTube App. It is also being reported by some users that this new feature of YouTube is not working on their device. It may be because YouTube launched this feature to some region-specific users.
How To Use Fast Forward or Rewind Feature On YouTube App?
It is a straightforward feature to use. First of all update YouTube App on your Android or iOS device, whichever you own. Open a video in full-screen mode and double tap on the right side of the screen to go forward by 10 seconds. You can also double tap on the left side of the screen to go back by 10 seconds. If you tap multiple times then the video will skip in the same multiples divided by two.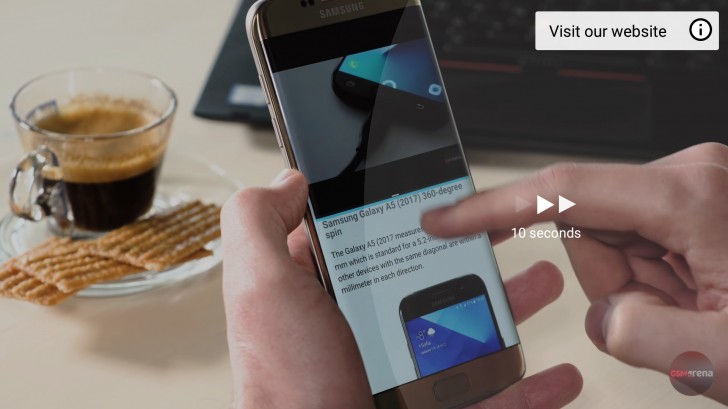 Some users have also reported problems with the new skip feature. They claimed that this feature slows down the interface and hinders the full-screen toggle performance. We can only know the performance effects after using this feature in out own devices, so why not give it a try! I personally tried this new skip feature on my Moto X Style and it works very well without disturbing the performance of my device.
However, this new feature is a small addition to the platform but still adds a new flair and easiness into the app. If you have something to add in here then share your views in the comment section below.
Source| Image credits: GSMarena