How To Use Wifi and Mobile Data At The Same Time For Faster & Stable Internet
Posted On
Here is how you can use Wifi and Mobile Data at the same time for faster & stable Internet Speed on an unrooted Android and iOS smartphone.
Mobile data connection and WiFi are two ways of connecting your smartphone to the internet. Sometimes you can get irritated with the speed of internet on your mobile, especially when you want to watch a video. Public WiFi is often overloaded with lots of connections that causes the speed to fluctuate. On the other hand, your mobile data connection is often slow. Moreover, you might not want to spend mobile data when the WiFi is available. I always wondered if I could use wifi and mobile data at the same time to get a stable and better speed. It is now possible to use WiFi and Mobile Data together without rooting your device to get faster speed with the help of an app.
How To Use Wifi and Mobile Data At The Same Time For Faster & Stable Internet
One of the main advantages of this method is that it lets you combine WiFi and Mobile Data together and does not require you to root your Android device or jailbreak iOS device. You just need to download and install a simple app and enjoy better speed on your Android device by using WiFi along with your Mobile Data. You just need to follow the steps below:
1) Go to this link to download it from Google Play Store OR from official website Speedify Download.
2) Before we proceed, make sure that both the mobile data and WiFi connection is turned on.
3) Launch Speedify application. It will automatically detect the internet connections available on your mobile. You will see both mobile data and WiFi connection on your screen as shown below.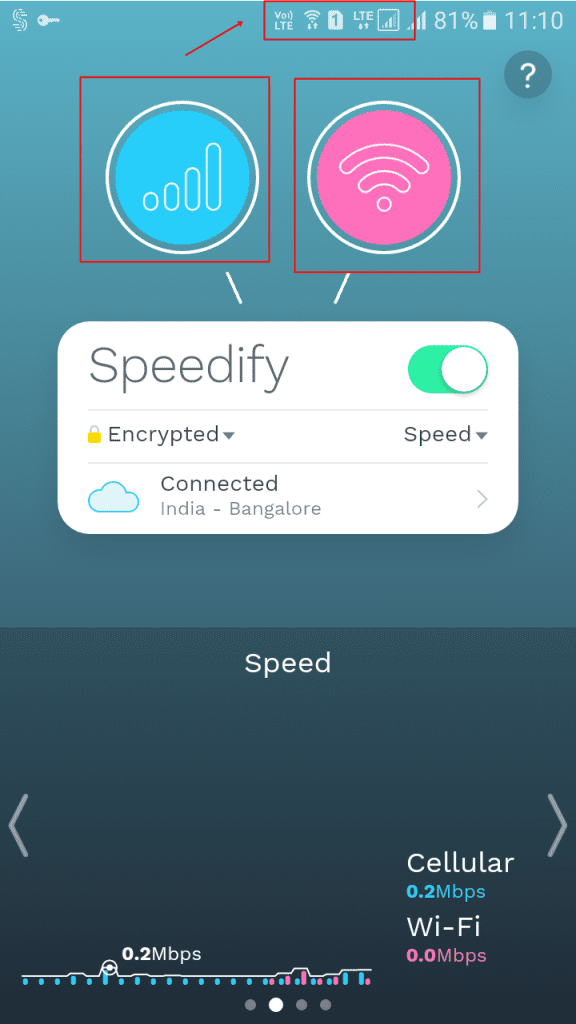 4) The app will take a few seconds to connect your mobile to both WiFi and mobile data. Once you can see that Speedify has enabled both the connections together, you can close the app.
This is just the basic feature of this app. There are some more features of Speedify that you can enjoy with the app to monitor your internet connection. The full version of this app lets you choose the fastest WiFi connection in case of multiple available connections. Also, you can monitor your data usage per day or per hour along with the current and average speeds. You can choose between the monthly and yearly plans according to your requirements and budget to enjoy all the features.
So that will be all on "How To Use Wifi and Mobile Data At The Same Time For Faster & Stable Internet", If you have any suggestions regarding this article then please comment in below section.
Source
Read More: The Best Ways to Hide Your Browsing History From Your ISP
How to Remap Bixby Button on Galaxy S8 or S8+